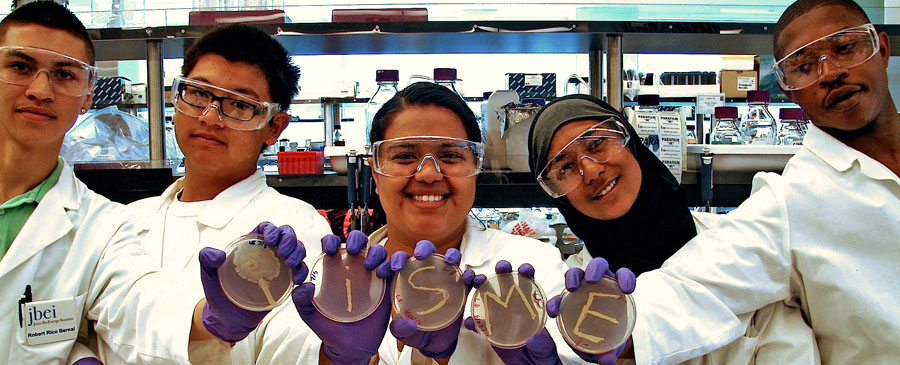 With funding from the Intel Foundation, the Ignited Research Collaborative (IRC) was launched in 2010 to support high school science teachers committed to increasing the rigor and frequency of science inquiry and research in their classrooms, schools, and districts. Support services provided by the IRC and the efforts of the participating teachers are improving students' inquiry-based science knowledge and skills. Now in its fourth year and with financial support from four foundation funders and two school districts, the Research Collaborative is supporting 64 teachers from 28 schools in nine school districts in Silicon Valley,
Austin and Phoenix.
The overarching, long-term goals of this project are to increase the scientific literacy and critical thinking skills of students in the targeted Silicon Valley schools and classrooms, to help their teachers successfully facilitate both the academic learning of science and the knowledge application skills necessary for students to address novel problems, and to help this shift to increased science research and inquiry become an institutional change in the modern educational system.
Consulting and Expertise –
In addition to the expertise freely shared between members of the IRC, members are in frequent contact with IRC Facilitator Kristen Harrison and the IRC Teacher Consultants. With Kristen's guidance, participants craft individual projects appropriate to their specific situation which provide the greatest opportunity for student benefit, and ongoing support allows participants to discuss their projects and receive advice on next steps and helpful resources.  Participating teachers also post and access resources and interact virtually through the Intel Engage:  Ignited Research Collaborative Online Community.
Face-to-Face Research Collaborative Meetings –
A second key area of support is the organization and facilitation of IRC group meetings.  These quarterly meetings focus on the 'nuts and bolts' of fostering science inquiry and research and allow participants to gather to discuss and obtain resources to further their projects.
Teacher Stipends and Supply Funding –
A critical area of support is the provision of stipend and supply funding for participating teachers. Increasing the frequency and rigor of science inquiry and research is a huge challenge requiring additional funding and a significant time commitment. Stipend and supply funding incentivizes the teachers to take on this challenge, and prevents unmet needs for supplies from derailing their efforts.
Ignited also offers opportunities for corporate employees to help bridge the gap between business and education by working with the Ignited Research Collaborative teachers and students on their science fair projects, science clubs and research projects. This involvement could be short- or long-term, provided face-to-face or virtually.