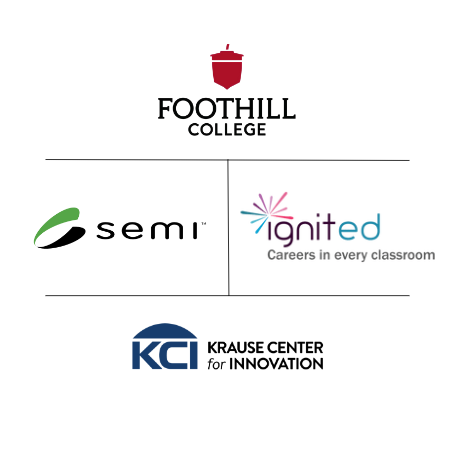 With new national education and workforce investments arriving this year, semiconductor industry leaders from across the U.S. are developing classroom materials and experiential learning opportunities for students. The Bay Area has a phase 1 project, funded by the California Apprenticeship Initiative and led by Foothill College, SEMI Foundation, Ignited, and the Krause Center for Innovation (KCI) to design K-12 classroom materials and an apprenticeship pathway into the industry.
The resources below present opportunities for K-12 teachers to seamlessly integrate these topics into their classrooms, preparing students for future possible careers in this exciting growing industry.
Sign up to receive updates on new curriculum releases.
Explore Resources
Elementary School Lessons    Middle School Lessons    High School Lessons
 Careers in Semiconductors

Explore the semiconductor careers that make a difference in an industry that is propelling the world forward.

People - video profiles of industry professionals
Careers - all types of jobs for all types of people
Companies powering the industry     Chip In: Roadtrip Nation Documentary

Viewer's Guide Lesson

Semiconductor chips may be tiny, but they have a giant impact on how we communicate, travel, entertain ourselves, and live our daily lives. Follow three young people as they explore the exciting world of microelectronics.
High school graduates:
Apply today to launch an exciting career in semiconductors though the work2future apprenticeship program!

Apprentice wages: $20-$30/hr FT, plus benefits, No prior experience necessary