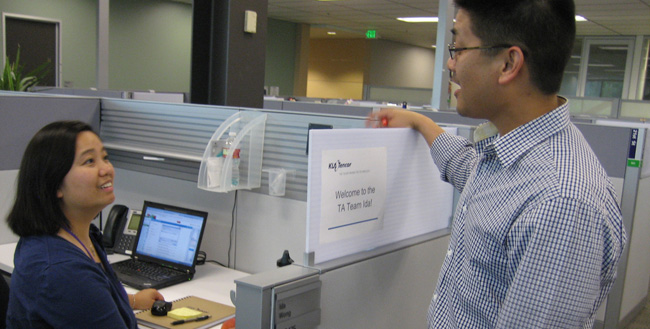 As a Mentor, what am I responsible for?
Create a project – Ignited will provide a form where you can describe the type of project you have and the skills and background you would like the teacher to possess.  The project can change depending on your needs and the strengths of the teacher you select. Tips on defining a project
Select a teacher – Most Mentors can screen the handful of resumes Ignited sends, interview and select teachers in a total of 4-5 hours.  Interview tips
Prepare for the arrival of the teacher – There is limited time in the summer so it is important to have everything the teacher will need to jump into the project when they arrive.  Think of the teacher as any other new employee.  Decide what tools (telephone, computer, desk, security badge, etc.) and training they need to be successful. Preparing for arrival
Attend an Orientation – Ignited Mentors are encouraged to attend an in-person or online Mentor Orientation.   As June approaches, your Ignited Fellowship Account Manager will contact you with dates and times from which you can choose.
First day/week of the Fellowships – Be sure you or a colleague are available to greet the teacher on the first day and provide the appropriate training.
During the Fellowship communication is key – Mentors typically meet with their teacher at least once or twice per week to monitor progress of the project.  To spread the workload it helps if there are other group members who can assist with the teacher's questions during the Fellowship. During the Fellowship
Review timesheets – If your organization has designated Ignited as the Employer of Record, then Ignited issues and collects timesheets. Mentors will be required to review them. If your organization has hired the teacher directly, please check with your Human Resources department about the payroll process.
Read and sign off on Education Transfer Plan (ETP) – With help from the Ignited team, the teacher is solely responsible for creating strategies for bringing the summer work experience back to their school. You are, however, asked to read and sign off on your Fellow's ETP in August to ensure there is no confidential or proprietary information included. What is the ETP?
Team building (optional) – Arrange informal lunch gatherings so they can meet other company personnel, invite them to staff or other meetings, and organize a presentation of their project and/or ETP to executives or staff.
Complete an evaluation – At the conclusion of the Fellowships you will receive a survey that takes about 5-10 minute to complete which will help Ignited continue to make process improvements.
End of Summer Celebration – Please plan to attend Ignited's Spark the Future Celebration in August! We will be sure to get you the date and details as soon as the location is finalized. It's a great opportunity to celebrate the accomplishments of your Fellow as well as network with other Mentors.
After the summer your official mentoring obligation ends, however we hope your relationship with your teacher continues!